Costly Child Care Leaves Struggling Families Scrambling to Stay Afloat
Amanda Marcus didn't expect a work bonus to leave such a huge dent in her family budget.
When the young single mother verified her monthly income to the county department of human services, that small one-time boost was enough to make her ineligible for the child care benefits she had been relying on to help pay for her young son's day care. Marcus had been enrolled in a "Cliff Effect" pilot program designed to slowly ease families off of Colorado's Child Care Assistance Program (CCAP) as their incomes increased.
"It was pretty scary," Marcus said. "I went from paying $400 a month to $200 a week [for child care]."
For struggling families who access federal and state benefits to supplement their incomes, the loss of these benefits can have devastating effects on household budgets. The National Women's Law Center (NWLC) estimates that the annual cost of full-time child care in the U.S. for one child can range from $3,000 to $17,000. And nearly one out of five working women in the U.S. with young children works in a low wage occupation, typically earning $10.50 per hour or less.
As families begin to earn more, they are pushed off benefits causing their real income to drop dramatically. The loss of child care assistance in particular can result in one of the steepest drops for low-income families due to the high cost of child care.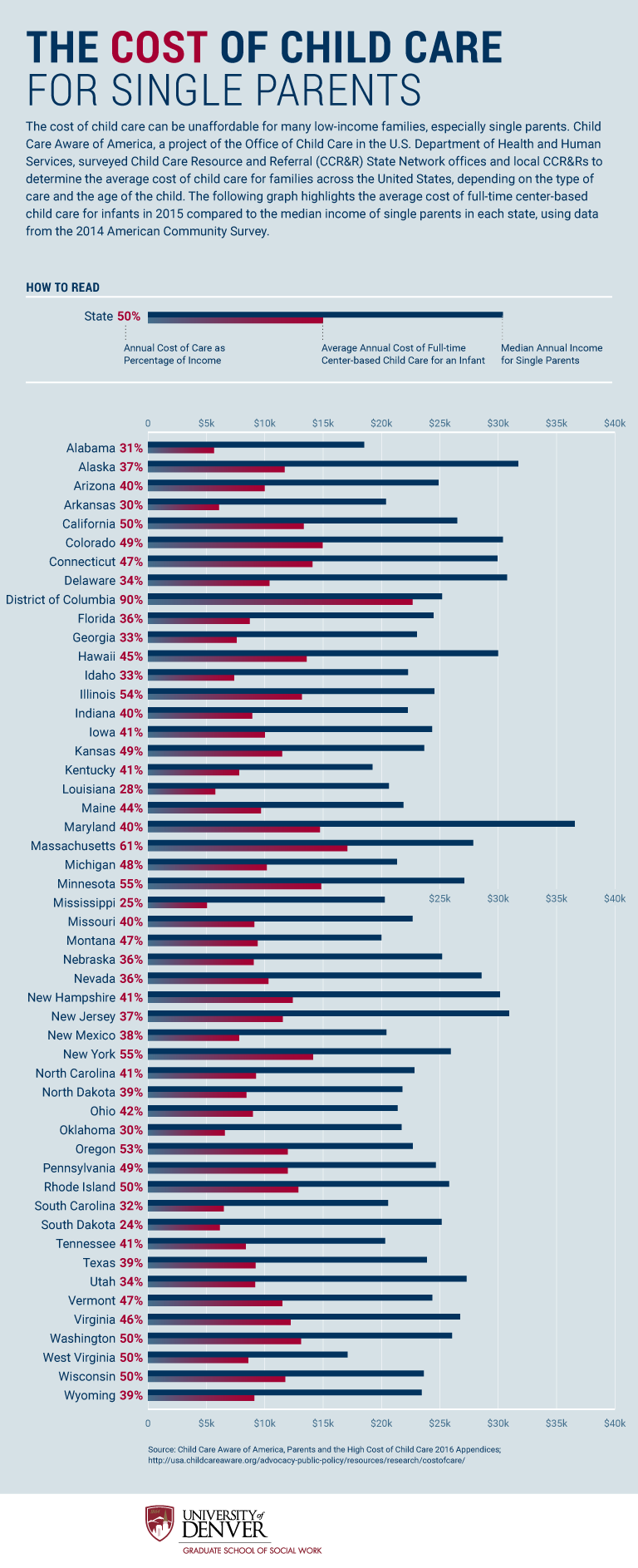 View the text-only version of this graphic.
The Double-Edged Sword
Jean East, a professor with University of Denver's Graduate School of Social Work, has studied the child care cliff effect in Colorado and notes that Marcus' experience is similar to many mothers who rely on assistance.
"They called the child care assistance program a double-edged sword," said East. "It was a blessing because in order to go to work, they needed the benefit to help them with the expense of child care. But at the same time, they worried constantly that they were going to be over income [eligibility requirements] and all of a sudden would lose that benefit."
Like Marcus, many of the mothers who participated in a study that East contributed to said that temporary increases in income resulted in them being forced off of assistance. Many were forced to reapply the following month while their children lost out on stable care.
"Being poor is a full-time job," said East. "Managing your benefits, applying for your benefits, reapplying for your benefits, and managing case managers and the multiple people in these systems that are in your life is not easy."
In order to avoid being shut out from benefits, many low-income families strategized about how to retain assistance. According to East's research, the most common strategies included:
Avoiding taking extra hours at work
Turning down raises
Declining job offers
Avoiding changing marital status
Refusing child support
Withholding required paperwork
Steering Families Away from the Cliff
Colorado is helping to ease the burden of the cliff effect through a pilot program that enables counties to raise the income eligibility threshold for families, allowing them to contribute more to child care as their household income increases. However, the counties are allowed to decide for themselves if they want to participate in the program.
Since 2014, the Bell Policy Center, a progressive think tank based in Denver, has successfully helped push for the expansion of the program as well as additional funding for the pilots. The organization's researchers are currently studying how the structure of pilot programs in different counties can help families so that they don't find themselves in the same predicament as Marcus.
"If we recognize the value in supporting families as they try to make the best choices for their kids around early childhood education and child care, then we are setting them up for success," explained Natalie Wood, a senior policy analyst at the Bell Policy Center. "When you are investing in the children, you are helping invest in the parents as well because they are able to go to work."
On a national scale, the reauthorization of the Child Care and Development Block Grant Act of 2014 is also helping to address instances like Marcus' in which parents are forced to deal with the sudden loss of benefits. The law requires states to allow families to remain eligible for assistance for a minimum of 12 months without having to recertify their eligibility, as long as their household income stays below 85 percent of state median income.
"When you are investing in the children, you are helping invest in the parents as well because they are able to go to work."
As of June 2017, 41 states were in compliance of this rule. However, a report by NWLC also noted that a number of states still required families to report significant changes to their incomes, work schedules and care arrangements, and these states continued to take actions against them such as reducing their benefits and making them ineligible for child care.
A System Characterized by Scarcity
While addressing child care cliffs is one piece of the puzzle, advocates for low-income families say much more needs to be done to make sure that these families can afford quality care for their children. In 2015, there were about 370,000 fewer children receiving federal child care assistance than in 2006 due in part to funding sources either flattening or shrinking.
"It's just a system characterized by scarcity, and I'm concerned if [the country keeps] going like this, I don't know what choice families are going to have for providers," said Helen Blank, director of child care and early learning at NWLC.
NWLC reported that low-income eligibility limits, long or frozen waitlists for assistance, high copayments for families and insufficient reimbursement rates for child care providers serving families receiving assistance were among some of the biggest barriers preventing low-income families from enrolling children in quality care. Blank also expressed serious concern over further proposed cuts to federal funding.
"Child care is a vital part of our infrastructure, and anyone who works with kids ought to be pushing this to a higher place on the policy and the investment agenda," Blank said. "These mothers are working tough jobs with low incomes and tough hours, and their incomes aren't enough to pay for safe, healthy and high-quality child care."
Even though she has been able to move up the ladder at work, Marcus knows this struggle all too well — a struggle she and her fiancé will once again have to overcome as they welcome a new baby boy into their family.
"Nobody understands how much it costs," she said. "I don't know how I'm going to afford it for my newborn."
How Can Social Workers Help?
In September 2017, Senator Patty Murray (D-WA) and Representative Bobby Scott (D-VA) introduced the Child Care for Working Families Act aimed at improving access to childcare assistance specifically for families with infants and toddlers. Learn more about how this legislation would help families and consider joining NWLC's Child Care Now campaign, which offers allies a number of advocacy tools to help champion this bill.
Citation for this content: MSW@Denver, the Online Master of Social Work from the University of Denver.