MSW Advanced Social Work Practice Concentration
Designed to support today's community needs—from social justice to culturally competent health care—the University of Denver's Graduate School of Social Work's MSW@Denver program allows students to customize their own MSW pathway under the Advanced Social Work Practice concentration. You can consider sample pathways in Mental Health and Trauma and Health and, Equity and Wellness, or create your own. Courses in both the Online MSW and Online Advanced-Standing MSW programs (pathway) offer creative opportunities to cultivate expertise in vital areas of social work.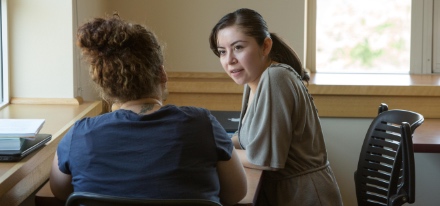 Redefine what it means to live with mental illness, addiction and/or trauma. In this concentration, you will focus on comprehensive assessment, advanced interventions based on cognitive approaches and trauma-informed care. With a strong foundation in theory, you'll develop skills to support informed clinical decision-making that empowers individuals, families and communities.
Course Examples
Intersections of Mental Health, Substance Use and Trauma
Cognitive Behavioral Therapies
Mental Health and Health Care Policy
Learn more about the Mental Health and Trauma concentration.
Health, Equity and Wellness
Improve health and wellness for individuals and communities while advocating for policy reform across systems. In this concentration, you will learn to focus your practice on integrative approaches to health care and the mind-body connection—incorporating problem-solving and evidence-based modalities that consider health care trends, interdisciplinary collaboration and social justice.
Course Examples
Evolving Perspectives and Trends in Health and Wellness
Social Work Practice in Health Care
Methods for Evaluating Practice/Programs
Learn more about the Health, Equity and Wellness concentration.
Access Your Application
Create positive change as a social worker. Take the next step today.
Apply Now