MSW Advanced Social Work Practice Concentration
Designed to support today's community needs—from social justice to culturally competent health care—the University of Denver's Graduate School of Social Work's MSW@Denver program allows students to customize their own MSW pathway under the Advanced Social Work Practice concentration. You can consider sample pathways in Mental Health and Trauma and Health and, Equity and Wellness, or create your own. Courses in both the Online MSW and Online Advanced-Standing MSW programs (pathway) offer creative opportunities to cultivate expertise in vital areas of social work.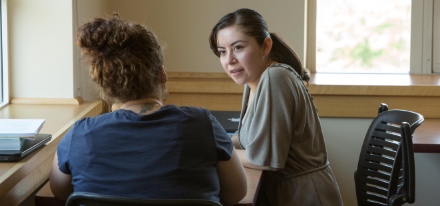 Mental Health and Trauma Focus
Redefine what it means to live with mental illness, addiction and/or trauma. In this concentration, you will focus on comprehensive assessment, advanced interventions based on cognitive approaches and trauma-informed care. With a strong foundation in theory, you'll develop skills to support informed clinical decision-making that empowers individuals, families and communities.
Pathways Examples
Intersections of Mental Health, Substance Use and Trauma
Cognitive Behavioral Therapies
Mental Health and Health Care Policy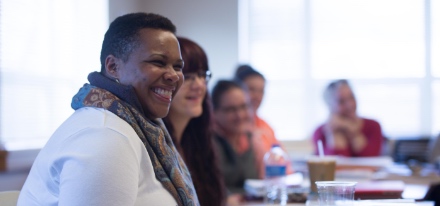 Health, Equity and Wellness Focus
Improve health and wellness for individuals and communities while advocating for policy reform across systems. In this concentration, you will learn to focus your practice on integrative approaches to health care and the mind-body connection—incorporating problem-solving and evidence-based modalities that consider health care trends, interdisciplinary collaboration and social justice.
Pathways Examples
Evolving Perspectives and Trends in Health and Wellness
Social Work Practice in Health Care
Methods for Evaluating Practice/Programs
Learn more about the Health, Equity and Wellness concentration.
Create Your Own Pathway
Select one from the menu of required course option by each category to create the pathway that is right for you
SOWK 4325: Evolving Perspectives & Trends in Health & Wellness  

SOWK 4345: Intersections of MH, Substance Use, & Trauma

SOWK 4338: Assessment of MH Across the Lifespan 

SOWK 4340: Leadership & Supervision Skills  

SOWK 4752: Trauma Informed Assessment & Interventions  

SOWK 4784: Suicide Assessment & Interventions

SOWK 4401: Integrated Health Care  

SOWK 4430: Substance Use Interventions  

SOWK 4700: Solution Focused Brief Therapy  

SOWK 4723: SW Practice in Health  

SOWK 4730: Cognitive Behavioral Therapies

SOWK 4655: Mental Health & Health Care Policy 

SOWK 4900: Methods for Evaluating Practice & Programs

SOWK 4235: Disproportionality & Disparities  

SOWK 4545: SW Practice with LGBTQIA Communities  

SOWK 4643: Digital Justice  

SOWK 4790: Human Sexuality

SOWK 4521: Advanced Skills for Working with Military Families  
= 45 total concentration curriculum credits
Frequently Asked Questions
You have a choice to create a curriculum plan that is a broad "Advanced Generalist" degree, solely based on a variety of interests in each requirement area (Theory for Practice, Assessment Skills, Ethics, Safety, & Supervisory Skills, Intervention Skills, Policy & Advocacy Skills, Evaluation & Research, Values, and Electives) OR you could focus your curriculum choice toward an area of practice, population, or a social work setting that appeals to you and your career interests. 

No. Pathways are designed to give you flexibility for both your specific interests as well as course availability. If one of the classes that is suggested is not available, you may wait until another quarter or choose a different course that is listed within that category to fulfil the degree requirements. Pathways are suggestions!

You should consult the state licensing board for your particular area, such as LSW, LCSW, CAC, School Social Worker, etc. Some courses will be more geared toward specific types of social work practice. Students should think ahead about which courses would be best to take for their future licensure wants or needs. Students can always consult the GSSW Career Services team for more specific questions. Please visit the Social Work Licensure page on the Student Portal for more information

Courses that are not taken to meet specific requirements (I.e. theory, assessment skills, intervention skills, etc.) can be taken to fulfill the credit requirements for electives. Please take a look at the sample plans below for a few examples of what this may look like.
Access Your Application
Create positive change as a social worker. Take the next step today.
Apply Now